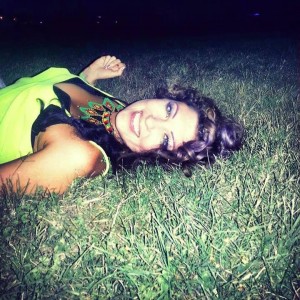 I started dance when I was 3 yrs old and theater when I was 4. It didn't take long for me to realize I would be expressing myself somehow through music and dance forever.
When I was in 3rd grade I moved to Oregon until I was a senior in high school when I found my way back to Carlsbad. My years in Oregon consisted of me trying to fit in by playing sports when all I really wanted to do was sing and dance. Luckily all my friends knew and loved me as ball girl for Soccer, basketball, and volleyball…the town mascot if you will. Thankfully I found one of my best and most cherished teachers to date ,Miss Nancy Traina. I tapped in a basement with 4 other girls and was able to gain finesse and control in this small space I called a second home. When I was 16 I received a birthday present for opera singing lessons. This was a style of singing I was very unfamiliar with but decided to give it a go. By the time I graduated high school I had a large scholarship to Cal State Long Beach for Opera singing. I sang Italian Arias under the training of Sara Lopez mostly but realized quickly that opera wasn't my path. I felt too ridged w my singing notes because I kept feeling myself want to sing with more blues and soul. Interestingly enough I still use opera singing techniques whenever I sing so nothing is ever a waste in my eyes.
Eventually I found my way to Mira Costa Community College where I hit pure gold w the well known Megill brothers. They were these amazing hippie long haired brothers with knowledge out the ears…I must've took every music class offered at MCC and loved every second. By the time I was 20 I had totally shifted gears from opera, choirs, and theater and joined a hip hop group with Audrey by the name of Pyramid crew. Over the years I've also been a session singer for many studios in San Diego. I also kept tap dancing and teaching at a professional level training with Linda Sohl Ellison of Rhapsody in Taps and Louis McKay. Due to a major car accident in 2010 I was sidelined completely from singing, dancing and most activities. During this difficult time I would dream about what I wanted to do musically when I recovered. I had back surgery in Jan of 2013 and have worked my booty off to get back on the stage.
I recently finished my first dance show in 4yrs!! The duet and video I finished w my dancing/singing partner, Amanda Marie-Jorgensen, will be up shortly on our YouTube channel , The Mander and Erin Show. Now that the dance show is over I've started the singing/dancing project I've been dreaming about for yrs. A full band equipt with portable tap floors, beat triggers, singing, dancing, french horns…the works!! Words of advice? Keep your eyes on the prize…give yourself a break…don't be lazy…finish your songs!! Don't take yourself too seriously..you're not a rocket scientist. Listen to what your heart is saying to you deep within and do it!! Don't think too hard!! Do it!!