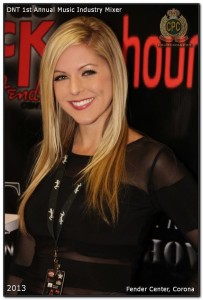 We're excited to announce that our little class has caught the attention of some industry professionals who would like to come scope out our talent and give us all some helpful feedback on performance days! First up on our judges panel is Dani Thompson of DNT Entertainment.
Dani Thompson is CEO and Founder of DNT Entertainment Agency. She is an active Producer, A&R and Publicist for Multi-Platinum producers in the Los Angeles and Orange County areas, and always on the lookout for new talent to represent.
Dani has been in the music industry since she was a child, and has shared the stage with world renowned artists such as Paul Rodgers & Bad Company, The Steve Miller Band, Etta James, and Lit before she was 18 years old. She has worked with artists such Duets Finalist Jason Farol, X Factor's Macy Kate, Sean Kingston, Kaitlyn Weathers, Lindsey Carrier, Moxy Anne, Dakota Thompson, On Being Human, Stefani Rose, and many other independent artists both locally and internationally.
DNT has collaborated on projects with award winning producers who's credits include Backstreet Boys, Keith Sweat, Miley Cyrus, Joan Jett, Whitney Houston, Faith Hill, JoJo, Daughtry, Jordan Sparks, Amy Winehouse, Ace Young, Nicki Minaj, Flo Rida, Kelly Clarkson and many other "A" list names.